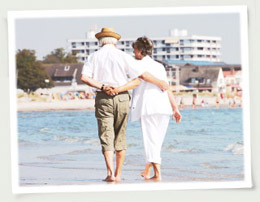 Activity may give a 70-year-old the brain connectivity of a 30-year-old
Several key studies have proven that physical exercise actually protects against cognitive (mental) decline and improves brain function. The human brain is a powerful, thinking organ that is able to continually adapt and rewire itself. Even in old age it can grow new neurons. In fact, most age-related losses in memory and motor skills result from inactivity and lack of mental exercise and stimulation. In simple words, when it comes to your brain: use it or lose it.
A wide variety of studies support this view. Simple aerobic exercise improves episodic memory by about 20%, states a University of Illinois study. And that can be as simple as walking 45 minutes a day three times a week. This study showed that exercise stimulates the production of new synapses, the connections that help aid superior intelligence. Study author, Art Kramer, says that a year of exercise can give a 70-year-old the brain connectivity of a 30-year-old, improving memory, planning, dealing with ambiguity and multitasking." Fitness training helps change the molecular and cellular building blocks that improve many cognitive skills," he says.
Confirming the value of exercise
In the late 1990s, researchers at the Laboratory of Genetics at the Salk Institute in San Diego discovered that human and animal brains produce new brain cells as a direct result of exercise.
Walking is especially good for your brain because it increases blood circulation and the oxygen and glucose that reach your brain. As you walk, you effectively oxygenate your brain. Maybe that is why so many people feel their mind is clearer and they can think better when walking.
In addition, movement and exercise increase breathing and heart rate, so more blood flows to the brain, enhancing energy production and waste removal. In fact, several studies have shown that in response to exercise, cerebral blood vessels can grow even in middle-aged, sedentary people.
Dramatic improvement in cognitive decline
Several other studies confirm the benefits of exercise. Studies of senior citizens found that those who walk regularly showed significant improvement in memory skills, compared to sedentary elderly people. Walking also improved their learning ability, concentration and abstract reasoning. Stroke risk was also cut by 57% in people who walked as little as 20 minutes a day.
A study of 6,000 women during an eight-year period at University of California at San Francisco showed that women who walked regularly were less likely to experience age-related memory loss and other declines in mental function.
"In the higher-energy groups, we saw much less cognitive decline," says Kristine Yaffe, M.D." The exciting thing is that this study showed that even a little exercise is good, but more is better. Exercise is something that all of us can do that could have huge implications in preventing cognitive decline."